Exclusive NOR Gate – EXNOR Gate
EXNOR gate means exclusive NOR gate and is a combination of X-OR and NOT gate. It also has two inputs and one output. When both the inputs are at 0, the output of the  EXNOR gate will be high i.e. 1. If one of the input is 0 and the other is 1 the output will be 0, and the gate is known as Coincidence gate.
The logical symbol of the gate is shown below.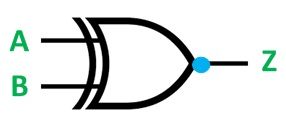 The truth table of the gate is given below.